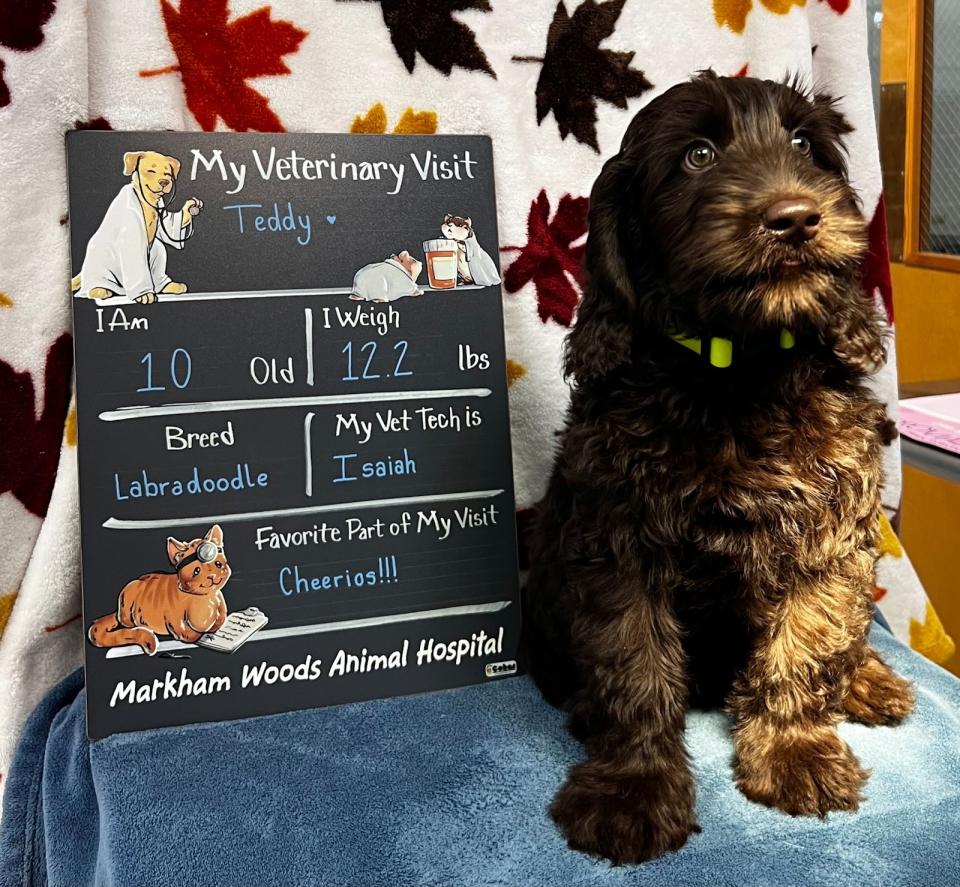 Congratulations on the newest addition to your family! At Markham Woods Animal Hospital, we are thrilled to welcome your precious puppy into our extended family. We are driven by a deep sense of compassion and unwavering commitment to ensure your puppy's journey towards exceptional health and lifelong happiness. Our dedicated team of veterinarians has meticulously crafted puppy care programs that encompass comprehensive assessments while offering invaluable guidance and support as your new family member grows and thrives.
Pre-Puppy Preparation Before you bring your puppy home, it's crucial to inquire about their current feeding schedule and diet. We recommend maintaining this schedule until your first visit to our hospital. During your initial puppy appointment, we will discuss your puppy's breed, expected lifestyle, and nutritional requirements, helping you lay the foundation for their well-being.
Preparation before bringing your puppy home is essential. Gathering supplies such as food and water bowls, chew toys, grooming essentials, bedding, collars, leashes, identification tags, crates, and gates in advance allows you to shop stress-free without the immediate needs of a new puppy.
Ensuring a safe environment is vital for your puppy's first few months. To achieve this, thoroughly puppy-proof the designated area and consider viewing it from a puppy's perspective by lying on the floor. If you have children, kindly remind them not to overwhelm the puppy on the first day.

Upon bringing your puppy home, please schedule an appointment for their first wellness examination. This initial visit comprises a comprehensive "nose-to-tail" physical assessment and serves as the cornerstone for a personalized preventative veterinary care plan.
The puppy's first wellness exam includes the following essential elements:
Thorough physical examination
In-depth discussion on the necessary vaccinations for your puppy's healthy future
Diagnostic tests for internal parasites and appropriate parasite control measures
Heartworm preventative measures
Introduction of your puppy to our veterinarians and staff, fostering comfort during future visits
Building a relationship between you, your puppy, and us, to understand your expectations as both a client and a pet owner
A comprehensive conversation about your puppy's breed, age, known medical history, home environment, behavior, and activity level
An opportunity to address any queries or concerns related to puppy care
Scheduling your puppy's first wellness exam establishes a strong foundation for your beloved new addition's long-term health and sets a positive routine for future wellness check-ups. The initial visits enable our veterinarians to administer your puppy's initial vaccination series, dispense heartworm medication, and monitor the development of any medical or behavioral conditions.
When bringing your new puppy for the first time, please have the following with you:
Your puppy on a leash
Any prior health records, including vaccination history, deworming, neutering, and past medical records
If you have any questions or concerns about your puppy, do not hesitate to contact us. We are here to provide support and guidance, and we are dedicated to your puppy's well-being. Reach out to us today to schedule a puppy wellness exam for your new furry family member. Let's help your puppy put their "best paw forward" on the path to a healthy and happy life!